A New Chapter in Pharmacovigilance – Post-Marketing Safety Studies
2021-07-29 | Press Releases
On July 15, 2021, the 3rd Annual China Pharmacovigilance Conference and GVP Landing Practice Experience Dialogue was held in Wuxi. Tan Ruixin, director of HLT Innovative Medical Solutions and Real-World Evidence, attended as a guest speaker. She presented on the topic of post-marketing safety studies based on real-world data.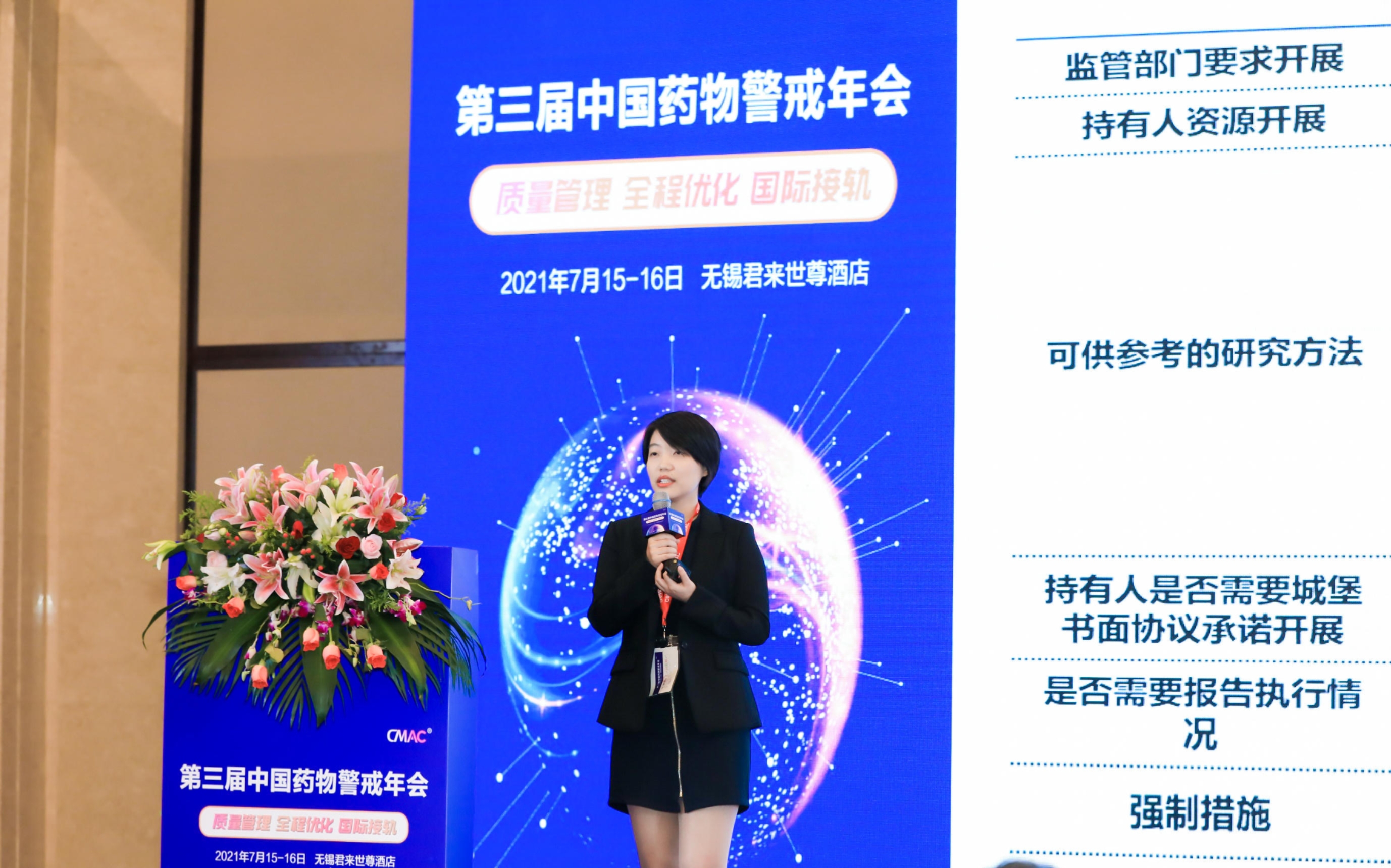 The new Drug Administration Law was implemented in December 2019. This new law requires the country to establish a pharmacovigilance system. It also increases the responsibility of drug manufacturers to monitor the quality and safety of drugs throughout their life cycle.
Furthermore, on May 13, 2021, the National Medical Product Administration formally issued the Pharmacovigilance Quality Management Standards (PVQMS). This is the first document supporting the new pharmacovigilance standards. The PVQMS systematically regulates drug manufacturers and guides the conduct of pharmacovigilance studies.
Under this new guidance, drug marketing is not seen as the end point. Rather, it is a new starting point, demonstrating the need for additional attention to a drug's safety. Commenting on recent measures taken by China, Tan Ruixin noted that the country's efforts to strengthen drug monitoring have gradually increased. The pace at which the new pharmacovigilance system has been adopted has been accelerated.
The release of the PVQMS is the beginning of a new chapter in China's pharmacovigilance work. Based on these new guidelines for risk identification and evaluation, drug manufacturers should take the initiative and carry out post-marketing safety research.
Tan Ruixin said of the post-marketing safety studies in the PVQMS, "Seven research purposes are mentioned, many of which can be answered by real-world studies. For example, to evaluate the safety of drugs used in population missing in the clinical trials or with limited safety information collected in the trials, using real-world evidence can make up for the gaps."
She believes that post-marketing safety studies can meet the requirements of regulatory authorities while empowering medical strategies . For example, generating supplemental real-world evidence through post-marketing safety studies can support the management of a drug's life cycle.
Data
Common data sources for post-marketing safety studies include clinical trial data, spontaneous reporting data, registration data, and electronic medical records. With the development of increasingly advanced electronic medical records, these are being explored and used to obtain necessary safety information.
High-quality and credible data governance solutions are fundamental to the security of any post-marketing safety study. HTL integrates information according to authorization. Through further data cleaning and curation, we transform raw electronic health data into variables that can be analyzed to do pharmacovigilance research.
Research Methods
It is important to select appropriate research methods based on the research purpose, a drug's safety profile, and how it's used
in clinical practice. The choice of research methods must be both scientifically valid and feasible. Prospective research and
retrospective research are two typical designs for real-world research. Each design has its own advantages and disadvantages.

Prospective research can design data collection in advance and actively monitor the results. It has strong pertinence, high reliability, and high relevance. However, prospective research is time-consuming and expensive. It is difficult to enroll patients and find qualified investigators interested in the research.
Retrospective research, on the other hand, takes very little time and is inexpensive. Sample sizes tend to be larger and can be managed through adjusting inclusion/exclusion criteria. . However, retrospective research requires multi-source heterogenous data cleaning and governance. Historical data could be biased, and reliability is relatively low.
Site Feasibility Assessment
The following are common pain points in site feasibility assessments.
It is difficult to predict the distribution of patient in each site.

The number of patients is insufficient.

Investigator's willingness to participate is low.

Hospital operation processes are complicated.

The recording system is not well-developed, and the data quality does not meet the standard of research.
Through real-world research, we can screen and select only sites with sufficient target patients . In addition, historical data can be used to develop evaluation criteria.
HLT applies artificial intelligence technology to establish an adverse event (AE) identification model. This technology can conduct post-marketing safety research more efficiently with high-quality data and compliance with existing standards. This model can save on labor costs by effectively identifying most of the AEs collected by traditional approach while including other clinical meaningful AEs.
Tan Ruixin also discussed a case in which real-world research supported post-marketing commitments. This study was approved by China's Center for Drug Evaluation (CDE). In this project, the CDE approved a modification to the previously required drug delivery method. The manufacturer submitted supplemental evidence demonstrating serious AEs from their product is not associated with the route of administration. The CDE's approval was based on the results from a retrospective multi-center database study done by HLT.
In 2017, China joined the International Council for Harmonization of Technical Requirements for Pharmaceuticals for Human Use (ICH). Since then, China's pharmacovigilance regulations have been rapidly aligning with international standards. Following new guidelines, drug manufacturers should consider the importance of pharmacovigilance. Implementing pharmacovigilance studies throughout a drug's life cycle can minimize safety risks of the product.
HLT has a team of professional pharmacovigilance researchers with a deep understanding of the guidance. We have established procedures, , comprehensive management , and thorough training systems. Our team is prepared to provide sponsors with high-quality and compliant pharmacovigilance services.