AI lends speed and precision in the urgent search for new drugs
2021-05-29 | Press Releases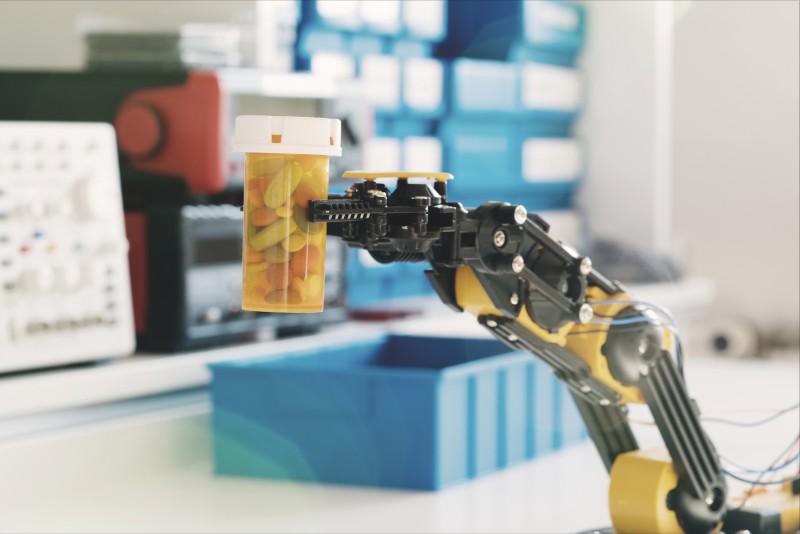 As the global outbreak of COVID-19 continues to spread, a race is on to control the disease. Some researchers are tapping artificial intelligence (AI) to accelerate the search for treatments, with the hope of identifying drug prospects quickly. Inspired by the world's first drug designed entirely by AI, an influenza vaccine developed at Flinders University in Australia, efforts are devoted to finding coronavirus vaccines using AI.
The development of new drugs is a highly complex, risky, and lengthy process. Data from the Tufts Center for Study of Drug Development show that the average cost to develop a drug is US$2.6 billion and the average time to take a new treatment to market is 12 years. Improving the effectiveness of drug development is a global challenge, and never more urgent than currently.
Thanks to emerging AI technology, pharma has started to see revolutionary changes, not only in identifying drug targets, but also in accelerating clinical trials. A growing number of large pharmaceutical companies have put great store in AI technology to overcome the enormous obstacles by improving the quality and efficiency of clinical trials.
AI-assisted clinical trial for an eye treatment
In China, several medical pioneers are achieving substantial results by using AI technology. Their success is narrowing the gap between China and the world leaders in the industry. Last October, Harbour BioMed, a leading biopharmaceutical company based in China, announced it had successfully completed the Phase II clinical trial of its innovative biological drug, HBM9036 (tanfanercept). The trial, in China, tested the safety and efficacy of this eye drop in patients with moderate to severe dry eye symptoms, and the trial duration was significantly shortened with the help of AI.
More than 300 million people worldwide suffer from dry eye syndrome, but because of a lack of effective anti-inflammatory drugs, only about one in five receive treatment. "Previous treatments normally focus on alleviating the symptoms, while strategies targeting the disease mechanisms are limited, despite its rising incidence," said study leader, Lixin Xie, head of the Qingdao Eye Hospital of Shandong First Medical University and Shandong Eye Institute, and a member of the Chinese Academy of Engineering.
In the study, Harbour BioMed, with its strategic partner, Happy Life Tech (HLT), a Chinese medical AI company, worked with a collaborative research network of ophthalmologists to build behaviour profiles for disease diagnosis and treatment. Using disease models processed by AI-assisted platforms, they performed multi-dimensional patient flow analysis, leading to accurate location of the potential patient groups and target hospitals. This, along with analysis of patient compliance, allowed precise recruitment and enrolment plans.
With the coordination of physicians from the medical network, 100 eligible subjects were recruited within 39 days in this single-centre trial, and 98 subjects completed all visits required by the protocol. These AI-assisted steps greatly hastened patient enrolment and processing, reducing the clinical trial length by 60%, according to Xiaoxiang Chen, Harbour BioMed's chief development officer.
"We are committed to using various new technologies to accelerate clinical development," Chen said. "AI has helped drug development and opened a new development pattern for the pharmaceutical industry, which will benefit the entire medical industry."
These results, as well as those of clinical trials conducted with Harbour BioMed's US-based partner, HanAll, provide the basis for the drug's Phase III clinical trials in China, which Harbour BioMed expects to launch in 2020.
"The application of intelligent technology has a pioneering and innovative significance." Xie said, "I hope all sectors can embrace intelligent clinical trials."
Using AI technology, HLT has helped 700-plus Chinese medical institutions in its network to build data processing platforms, having modelled several diseases. Its work mapping diseases to support multi-centre trials has boosted their research management capabilities, particularly in clinical trials, and gained wide recognition.
"This marks the arrival of the era of intelligent clinical trials," said Jiming Xu, HLT's co-founder. "As it matures AI is creating a new era of more reliable, higher quality, and more efficient drug development."
Optimized clinical trial management
AI technology application in clinical trials is being piloted at the Peking University Cancer Hospital, where, in collaboration with HLT, a base has been established for testing processes.
AI has an important impact on the clinical research process, alleviating various obstacles in data collection, tracing, monitoring, and imaging data evaluation, as well as improving quality and efficiency, said Lin Shen, deputy dean of Peking University Cancer Hospital. At present, utilizing HLT's AI technology, the hospital is exploring four aspects of intelligent quality control and data management, Shen says: patient recruitment, intelligent alarms for adverse reaction events, intelligent alarms for protocol violation, and reminder of missed notification of combination drug use.
The exploration seeks answers to long-standing problems and challenges: clinical trial data management, such as traceability of records, protocol violation, investigational drug management processes and security records; and quality control verification in clinical trials. These challenges can arise from insufficient manpower, increasing costs and reduced efficiency in managing growing levels of data, a lack of coverage of all data, and more.
"AI's advantages in improving clinical trial quality have been fully revealed in our experiment," said Shen, citing the optimized data management of the intelligent system provided by HLT. An algorithm shows that missed reports of adverse drug effects in trials are much lower than when processing data manually, for instance. Also, enhanced monitoring during the trial eliminates the need for post-trial checking, improving efficiency.
Using the 'eSource' system, automatic form-filling reduces data-entry errors by clinical research coordinators, shortening timeframes while improving data quality. "I think that the clinical trials have a huge need for AI technology, which has ample scope for future development," Shen said.
Since the outbreak of COVID-19, HLT has also released a remote monitoring system to assist online coordination between various players in clinical trials. "AI technology plays a key role in ensuring efficient monitoring of clinical trials," said Xu.
Going beyond traditional trials, real-world data are now emphasized in developing personalized treatment. China's National Medical Products Administration recently issued its first guidelines for using real-world evidence in drug development. This means there will be a greater need for tools such as AI to improve data quality.
If AI technology can become the main force of new drug development, it will inevitably have an effect on reducing the medication burden for patients, and provide more choices of high-quality drugs. "I'm optimistic about the future of AI in this space," Xu said.